Koszulki JUDO PLAY
Pierwsze koszulki w historii Judo Play!
T-shirty są wykonane z materiału wysokiej jakości- 100% bawełna.
Koszulki są przewiewne i dzięki braku sztucznych materiałów doskonale sprawdzają się na zajęciach judo i do chodzenia na co dzień.

Koszulki prezentują z przodu logo Judo Play, a z tyłu piękną japońską grafikę- judo i nasze hasło "LET'S PLAY!" oraz adres strony, czyli wszystko co powinno się znaleźć na koszulce judoki- reprezentanta Judo Play.

Chcąc zachować koszulkę w dobrym stanie, należy prać ją zgodnie z zaleceniami na metce (30'C). Nadruki są wykonane trwałą i wysokiej jakości techniką druku, dzięki czemu pomimo prań zachowują niezmienioną formę.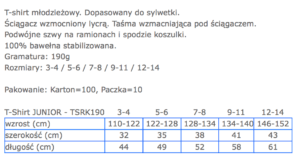 Koszt koszulki to 35 zł. Zamówienia proszę składać przez formularz do 28.02.2019:
https://goo.gl/forms/RyoS5IoqFtklMbr63
Po tym czasie czas oczekiwania na koszulki może być bardzo długi ze względu na konieczność zamawiania partiami.

Istnieje również możliwość zakupu koszulek dla rodziców. Koszt koszulki to 39 zł. Zamówienie na koszulki dla dorosłych prosimy składać mailowo.
Stwórzmy pięknie prezentujący się TEAM JUDO PLAY! Let's do it!